In place of WILW, today I'm linking up with a bunch of fabulous bloggers for...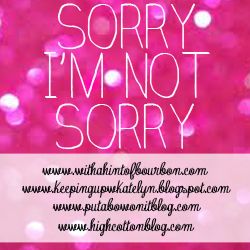 I go to bed early (like 11pm at the latest.)
It makes me want to throw up when you play with your gauges during class.
I don't understand why you insist on sleeping around every weekend.
I would rather spend the weekend relaxing.
I'm particular about the way I dress.
I really like bananas and peanut butter.
It annoys me when you think I'm stupid.
I look like a tragic mess 95% of the time.
xoxo,
Rebecca